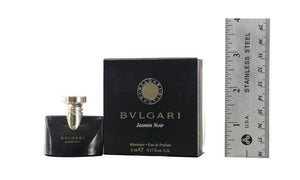 Bulgari Jasmine Noir Women 0.17 oz EDP Mini
Bulgari Jasmine Noir Women 0.17 oz / 5 ml Eau De Parfum Mini
Launched in 2008, this fragrance is 
luxurious and mysterious tribute to one of the most precious flowers of perfumery. Jasmine is a flower that surprises the imagination. Delicate and tiny, white as snow, it gives off a scent that is sensually and mysterious. Jasmin Noir is the sublimation of this duality. Similarly, the woman to whom Jasmin Noir is dedicated reveals a soul that is both delicate and seductive. 
Fragrance Notes
Top Notes: Gardenia, Green sap
Mid Notes: Sambac Jasmine, Almond Satin
Base Note: Licorice, Precious Wood, Absolute Tonka Bean
Boxed mini; splash (dab); great for travel; great for trial.