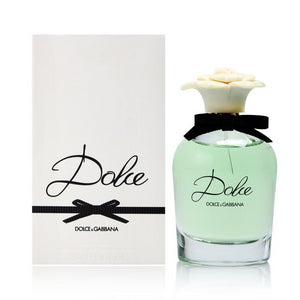 Dolce Women 2.5 oz EDP Spray
Dolce Women 2.5 oz / 75 ml Eau De Parfum Spray
Launched in 2014, Dolce for Women represents an emotional and sensual journey through Sicily, which is the origin and inspiration of the fashion duo. The fragrance is soft and feminine, white flowers wrapped in smooth musks and pale woods.
Fragrance Description:
Top Notes: Flowery Notes, Neroli, Papaya
Heart Notes: Daffodil, Lotus, Amarylis
Base Notes: Cashmeran, White Musks, Spicy Notes, Pale Woods
Customer Reviews
She is proud to be mine.
My misses recently mentioned that it had been some time since she had been treated to a bottle of her favorite scent. She described the box and told me the name so I noted this in my memos on my cell phone. The next day I placed my order and in a few days it arrived. The day it arrived she had been particularly upset with issues at work and the accumulated weight of the world. I told her to wait right there and brought her the package. She opened it and was overwhelmed with joy like the smell had just melted away her worries. She looked at me and said "I am SO proud to be your's" She had only purchased the smallest bottle in the past and she was excited that I had gotten her a bigger bottle than she had ever owned; as for me I was happy that it did not break the bank. I felt it was reasonably priced and man does she sure smell pretty! Thanks BeautyHound. Your first time and future customer, Wesley McCravy
Beautiful Scent
I was hesistant on purchasing this Dolce because I thought it would be very strong like the Blue but it is a light flowery scent and leaves a scent trail throughout my building floor and people have been commenting every time I wear it because it lasts all day.
---
We Also Recommend
---