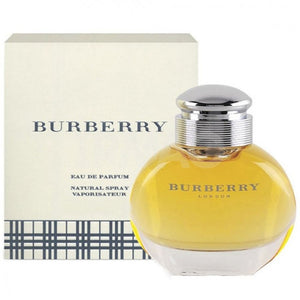 Burberry Women 0.15 oz EDP Mini
Burberry Women 0.15 oz / 4.5 ml Eau De Parfum Mini (Discontinued Classic Packaging & Bottle)
Launched in 1995, Burberry Women is a timeless and charming feminine fragrance. With delightful fruity top-notes and a woody floral heart, it leaves a beautiful gourmand vanilla trail. Don't miss out on this gorgeous classic in its Discontinued Classic Packaging & Bottle - a true collector's item.
Fragrance Description:
Top notes: Peach, Apricot, Pear & Black Currant
Heart notes: Jasmine, Sandalwood & Cedar
Base notes: Musk & Vanilla
Boxed mini; splash (dab); great for travel; great for trial.

SPECIAL OFFER: Save 5% each on all minis when you purchase any 2 or more!!!
Customer Reviews
Great service, great price, fast shipping!
Love it! Been looking for this scent for 13 years!